"COLUMNA MEDICA" REHABILITATION CLINIC&HOTEL, ŁASK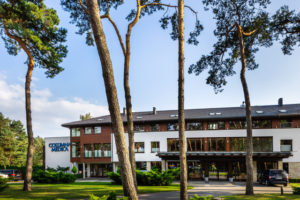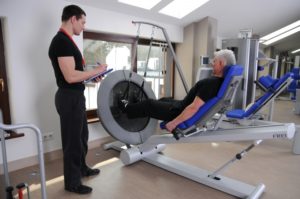 About the clinic/hotel
Located in a quiet pine forest 25 km from the city of Łódź, a 2 hour' drive from Warsaw.
Unique rehabilitation center consisting of a four-star hotel, a medical, spa center and an exquisite dining area. Ideal conditions for restoration and regeneration are created here. This place is suitable for people with health problems and everyone who dreams of rest and relaxation, slowing down and strengthening the natural vitality of their body.
Rooms
Stylish, bright rooms are decorated in beige colors. Each room has air conditioning, LCD TV with satellite channels, paid minibar, telephone and Internet.  Bathrooms are equipped with bathrobes and slippers.
Treatment and SPA
Hotel guests are offered numerous professional health and rehabilitation programs – "healthy spine", "orthopedic rehabilitation", "neurological package" designed for patients after a stroke, multiple sclerosis, after a head injury and after a spinal injury, "cardiology program", "training package for the pelvic floor. "
Rehabilitation is carried out using modern diagnostic and rehabilitation equipment. The most important component of each therapeutic package is the daily work with a personal physiotherapist. The clinic provides continuous assessment of the therapeutic effects of the treatment process. The biochemical analysis of the treatment effects is supported by modern diagnostic devices, which allow including three-dimensional reconstruction of the spine, motion analysis and accurate measurement of the strength of muscle groups. Thanks to comprehensive rehabilitation in the clinic, they improve the quality of life of Clients, help restore mobility, so that Clients can again function as before. Each Client has an individual approach, special treatment and treatment plan.
The hotel's SPA center offers comprehensive body and soul treatments, body shaping programs, exclusive relaxing and beauty treatments using the latest equipment and cosmetics from world brands.
Facilities
Swimming pool with hydro massage system and jets, Jacuzzi, dry and wet sauna and relaxation room with beautiful views towards pine forest.
Guests can spend the evening at leisure in the movie club, playing billiards.
The hotel has conference rooms for business events and wide range of offers for corporate leisure guests.
First and last name (required)
Email (required)
Phone (required)
Message