"POD TĘŻNIAMI" CLINIC, CIECHOCINEK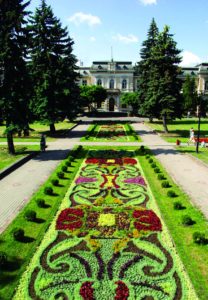 About the clinic
The clinic is situated in resort Ciechocinek, 23 km from the city of Torun and 200 km from Warsaw.
Rooms
Accommodation is offered in 301 functionally equipped rooms and suites. All rooms are equipped with a flat-screen satellite TV and Wi-Fi. All rooms have private bathroom with free toiletries. Some rooms have balcony.
Treatment and SPA
The clinic provides a wide range of specialized therapeutic, rehabilitation and dermatological treatments as well as many treatments in the wellness and spa complex. There is also an indoor and outdoor year-round pool, complex of saunas and a salt grotto.
Indications for balneological treatment and rehabilitation:
Rheumatology and traumatology and orthopedic diseases;
rheumatoid arthritis, osteoarthritis of the joints and spine, ankylosing spondylitis, osteoporosis, gout, post-traumatic phases after orthopedic surgery of joints and bones, curvature of the spine.
Cardiovascular diseases: chronic coronary insufficiency, stable coronary heart disease, phases after myocardial infarction, valves and blood vessels, phases after surgery on the valve and blood vessels, hypertension.
Respiratory diseases: diseases of the upper respiratory tract, chronic bronchitis, chronic obstructive pulmonary disease, phases after inflammation of the respiratory tract.
Diseases of the nervous system, inflammation of the sciatic nerve and damage to the brachial plexus, neuralgia and chronic inflammation of the nerve plexuses, phases after stroke, phases after neurosurgical operations, multiple sclerosis, Parkinson's disease, migraine, neurosis.
Diseases of the endocrine system and metabolism:
diabetes mellitus type I and II, simple obesity and obesity associated with cardiovascular diseases, changes in the musculoskeletal system and impaired lipid metabolism, hypothyroidism and non-toxic goiter.
Skin diseases: psoriasis, albinism, diseases with disorders of the skin epidermis, vascular diseases of the skin.
Rehabilitation after mastectomy.
After the examination, patients come under the supervision of medical specialists: cardiologist, therapist, laryngologist, rheumatologist, orthopedist and traumatologists, rehabilitation doctor and physiotherapy exercises. It is possible to get highly qualified consultations in the field of orthopedics, urology and vascular surgery. Here you can do laboratory tests, ECG, as well as studies of apnea and spirometry. The clinic also offers dental treatment. The procedures are performed by highly qualified specialists in the field of physiotherapy using scientifically proven methods of rehabilitation, in particular manual therapy using the Kaltenborn, Levit, Mackenzie method.
Spa treatment has multi-component, complex character. Several therapeutic methods are used at the same time to increase the effectiveness of the treatment – mainly balneotherapy, hydrotherapy, physiotherapy and massage. As a result of balneological treatment, positive general and local effect is achieved, which is expressed in improving physical condition and physical activity, increasing immunity and mental stabilization. At the end of spa treatment, the patient receives recommendations for further therapy and regimen, and, if necessary, instructions for performing physical exercises.