SANATORIUM "DOM ZDROJOWY", ŚWIERADÓW-ZDRÓJ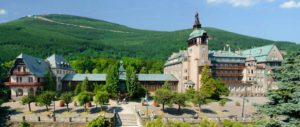 About the sanatorium
Built in 1899 by the famous architect Grosser, on the foundations of the building constructed in 1781 and burned down in 1895. It consists of two buildings, which are connected by the long walking passage (80 m). On the terraces (area 160 m) is the "artificial cave", where once was a mineral water pump room. The sanatorium has a modern medical treatment base that meets all current standards.
Rooms
248 beds in 1, 2, 3, 4-bed rooms, including suites and superior rooms. All rooms are equipped with telephone and TV, tea and coffee facilities, wireless Internet.
Treatment and SPA
Diseases of the ENT organs (ear, nose, throat), endocrine system diseases, eating disorders and metabolic disorders, diseases of the musculoskeletal system, diseases of the nervous system, diseases of the female genital organs.
Facilities
Spa, restaurants, coffee shops, two conference rooms, gym, fitness room, mineral water pump room, mineral water pool. Some treatment is done in the main building, and some – in a separate, which is connected to the main building by indoor passage. The resort has its own balneo center with radon baths, radon baths with sea salt, iodine-bromine bath. Among other treatments: whirlpool baths for arms and legs, mud pack therapy, periodontal irrigation with radon water, TENS muscle electrostimulation, oxygen therapy, cryotherapy.