SANATORIUM "LWIGRÓD", KRYNICA ZDRÓJ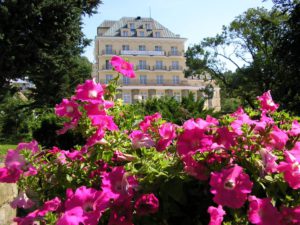 About the sanatorium
Located in the resort of Krynica Zdrój. Offers wide medical base and comfortable accommodation conditions.
Rooms
250 beds in spacious and comfortable rooms equipped with bathrooms, cable TV, telephone, electric kettle.
Treatment and SPA
Treatment indications: diseases of the musculoskeletal system, including patients on wheelchairs, ear diseases, speech diseases, psychomotor impairment, mental retardation, mental illness, epilepsy, circulatory system diseases, rehabilitation for women after mastectomy, allergies, neurological diseases, rheumatic diseases, diseases of the genitourinary system, diseases of the digestive system, diabetes, cerebral palsy, dermatological diseases, diseases of the respiratory system, scoliosis, chronic liver disease, pancreatitis.
Methods of treatment: mud therapy, hydrotherapy using mineral waters, cryotherapy, magneto therapy
ultrasound treatment, Galvano therapy, diadynamic currents, laser therapy, various types of massages.
Spa center offers wide range of cosmetic treatments. Also, guests of the resort can use the services of the on-site center of aesthetic medicine.
Facilities
Solarium, solarium, sauna, table tennis, billiards, Nordic walking, conference room.
First and last name (required)
Email (required)
Phone (required)
Message