SANATORIUM "PAWILON ANGIELSKI", NAŁĘCZÓW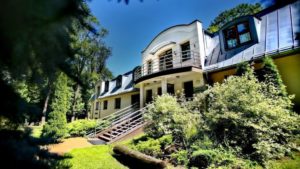 About the sanatorium
This is a cozy, elegant sanatorium located in a spa park in Nałęczów resort, next to the Małachowski Palace.
Rooms
There are 30 double rooms, each of the room with: kettle, refrigerator, telephone and TV. There are also rooms for guests with disabilities.
Treatment and SPA
Treatment indications:
Diabetes, cardiology, musculoskeletal system, orthopedics, cardiovascular system.
Types of therapy: balneotherapy, electrical stimulation, electrotherapy, physiotherapy, gymnastics, hydrotherapy, inhalation, kinesitherapy, cryotherapy, laser therapy, light therapy, magneto therapy, rehabilitation, oxygen therapy, ultrasound.
In addition to your stay in the sanatorium, you can use Spa services at the "Termy Pałacowe" hotel and visit the Atrium Waterpark (550m from the sanatorium).
Facilities
Restaurant. Atrium Waterpark is about approximately 550 meters from the sanatorium, offering: 300-sqm Aquatonic pool where the guests can take advantage of swimming paths, an artificial river, hot tubs, saunas – dry and wet, as well as bubble beds and pearl seats.
In Atrium Waterpark you will find the only white clay pool in Poland. White clay gets its properties from a high content of aluminum silicate (firming, cicatrizing), various micro-elements such as silicon, magnesium, iron, potassium, as well as sodium and mineral salts (nourishes and regenerates). It is used to care for dry and delicate skin. Soft clay delicately cleanses and nourishes the skin, at the same time having a refreshing effect. It eliminates dead cells and stimulates the regeneration.
Within 100 m from the sanatorium there are: club, billiards, bowling, a beauty salon.
First and last name (required)
Email (required)
Phone (required)
Message